Looking for cute, cozy and entertaining Christmas gifts for that feline lover in your life? Look no further for some cute Christmas gifts for cat lovers.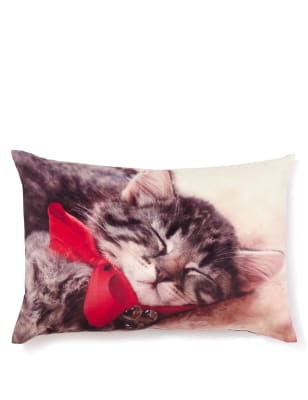 From Marks and Spencers in the UK an adorable kitten pillow. This has to be the perfect gift for any cat lover as the cuteness will work for girls and guys, it's not too intimate so you don't have to worry about the gift being too personal (and all the expectations, guilt and uncomfortableness that goes with it), and the price tag won't break the bank.Free shipping to the US is on offer for a limited time.
Coloring books for adults is everywhere, and for the stressed and overworked feline fanatic why not a Stress Relieving Cats coloring book? Now they can make Fluffy and Slasher pink, blue, kaleidoscope, whatever. Go for it. On second thoughts buy one for yourself!
For the friend or colleague who isn't sure if they really like cats, or if you just want to extract revenge keep them busy with cut paper clean Grumpy Cat Paper Dolls might just be the thing to get that certain person. Just watch them with those scissors.
Wearable kitty gear. This fashionable sweater comes from Macy's (where it probably has sold out by now). If you have the desire to get something wearable  best to check the internet as things go quickly, but are quite available. A warm sweater, sweatshirt, pajamas, socks and scarfs are always a good idea as they are cute and desirable.
For little feline fashionistas a visit  to Gymboree will be the perfect solution. With the cutes range of kitty related wear you will be spoiled for choice. So cute!!