This post contains some affiliate links
The winter blues.
That overwhelming feeling that everything is blah and bleak and good weather will never come back and days of relaxation and fun are just mere memories and why are the mornings so dark and is the news ever anything but depressing and what to do about feeling so morose?
Have you noticed that after the holidays the sales linger, but the stores sneak out new season things, to entice you.
To give yourself a little gift, maybe?
Something to lift up your spirits and bring you a smile.
A little treasure with catitude!
And that is the perfect idea!
And there are some really cute little cat things just for the job.
If you are a coffee, tea or hot chocolate lover (and let's face it, who isn't?) a mug is just the thing. There is nothing better than a drink from a new, fun, uplifting mug. Banish mis-matched cups and mug. Get a new kitty cup.
What could be cuter than this delightful little Cat & Mouse mug from Royal Worcester? Smaller sized it features the cutest cat and mouse looking equally surprised at each other – and they peak out from inside too.
From the highly coveted line of Emma Bridgewater is this Tabby Cat mug – super large for big drinks. Just one of the styles that Emma does this is charming and sturdy and will give you a good sized cuppa! If a tabby isn't the cat of the moment there are several other varieties to choose.
Both mugs are available from John Lewis UK who will ship it for £3.50 anywhere in the UK or in the USA Amazon if you click the links.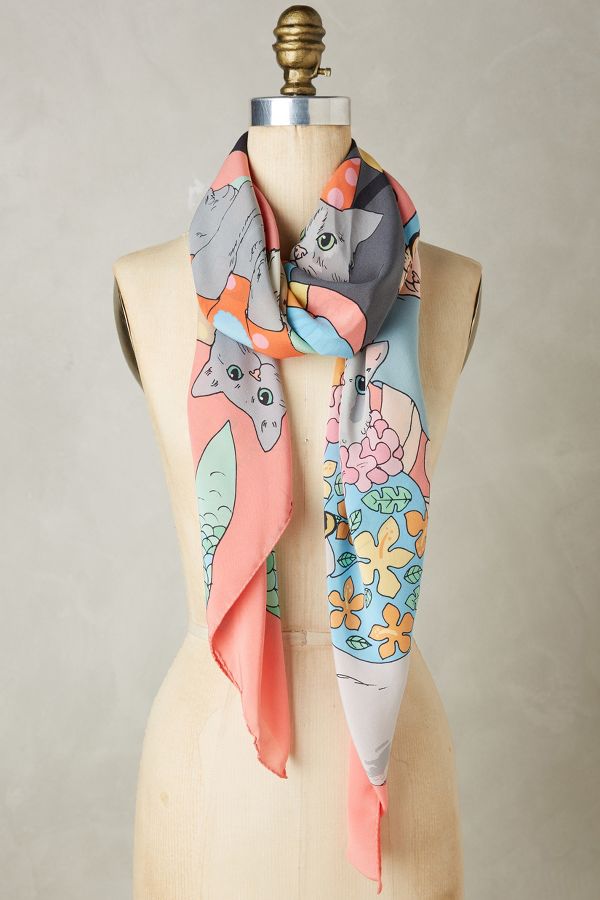 If you are feeling that you want something a little more personal how about this beautiful scarf by Karon Mabon at Anthropologie with little cat's peeking out will make a stylish statement and have you ready for spring with the fresh colors.
Cat loving book lovers should definitely check out this delightful Everyman edition, The Great Cat~poems about cats ~  which is full of musings on cats by some of the greatest writers: Tennyson, Yeats, Rilke, Naruda and many more. From serious to silly this little gem of a book will help to pass the dark days while waiting for the spring.
No matter what catches your eye a little kitty trinket might just be the cure all to banish the blues.